Frequently Asked Questions
Is the cycle route signposted?
The cycle route will continue in 2021. It will be signposted gradually with the new The Vélomaritime® logo. In the meanwhile, you can already identify the cycle route, in each area, by following the EuroVelo 4.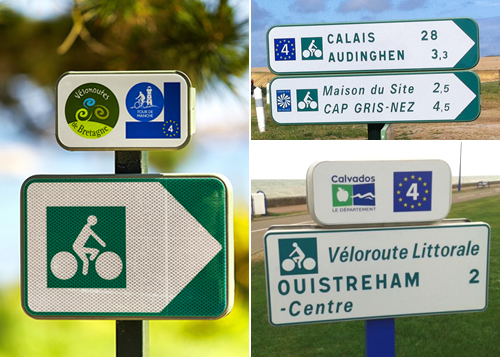 Is there a full guide to The Vélomaritime®?
Not yet! However, you can download guides and maps that cover a good section of the cycle route.
Can you create a GPX file to plan your own route?
Yes, using the route planner. Enter a start address and a destination, the route planner will suggest the recommended route, which gives preference to The Vélomaritime®. It will also suggest you download the planned route in .gpx format.
Can you find your sat nav position on The Vélomaritime® website?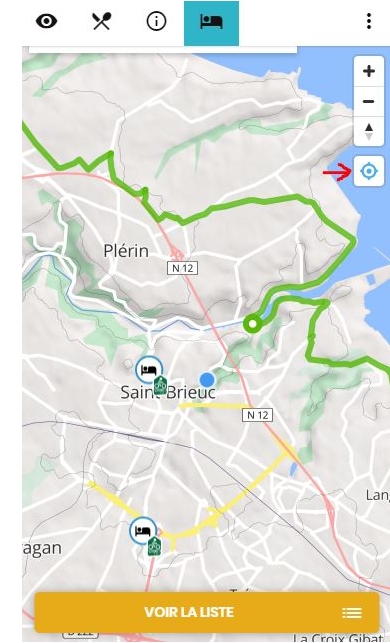 Yes, when you are browsing the website, a window will open asking if you agree to allow the website to access your current location.

If you agree, when you click on the red button (see screen capture) on pages with maps on them (trails, Acueil Vélo bike-friendly services), your position will be accessed.

This will then allow you to see your position in relation to the cycle route and to some services.
What type of bike do you recommend for The Vélomaritime® cycle route?
We recommend a hybrid bike.
Is there a direction in which you should ride?
Seasoned cyclists advise people to ride the cycle route from West to East. This increases your chances of having the wind behind you!
Can you rent a bike in one town and leave it back in another town (one-way rental)?
Yes, some bike rental services will allow you to do this, on certain conditions and in specific areas.
Is there a luggage transfer service on The Vélomaritime

®

?
Some bike rental services provide this service on certain conditions.
In the Manche region, from Mont-Saint-Michel to Cherbourg, La Malle Postale offers a luggage transfer service in partnership with taxis and hauliers in La Manche.