Frequently Asked Questions
Current status of the route
Is the route fully rideable?
The Vélomaritime cycle route has been fully completed since June 2021. Some sections are provisional, pending improvement work.
Crossing the Normandy Bridge - are there any alternatives?
The Le Havre <> Honfleur section does not offer cyclists a safe, bike-friendly path yet. The bridge has a cycle path but it runs alongside the road, without any separation (studies are ongoing to find a solution).
Two alternatives are currently available:
Book a ticket for you and your bike on the no. 39 Caen <> Honfleur <> Le Havre bus service. Buses are equipped with racking for four bikes. It is a booking-only service. Further information
 
Get your bikes and luggage transferred by Les Trouvillaises, at a cost of €80 for two bikes (€25 per extra bike), while you hop on the no. 39 Caen <> Honfleur <> Le Havre bus service.
Is the cycle route signposted?
The Vélomaritime route is signposted both ways along most of the itinerary (Vélomaritime logo and EuroVelo 4 symbol). Some sections are waymarked on the ground.
Is a full version of the Vélomaritime guide available in English?
The full version of the guide is only available in French for now.
Can you find your sat nav position on The Vélomaritime® website?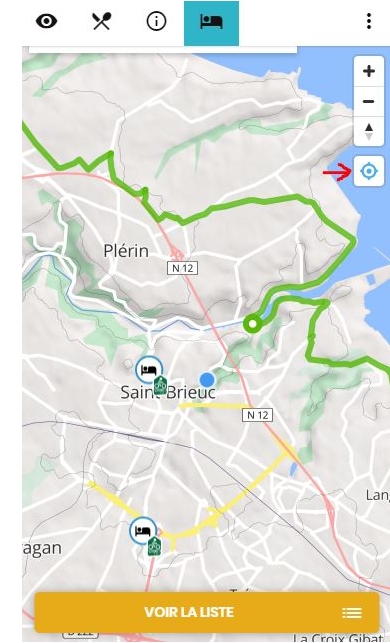 Yes, when you are browsing the website, a window will open asking if you agree to allow the website to access your current location.

If you agree, when you click on the red button (see screen capture) on pages with maps on them (trails, Acueil Vélo bike-friendly services), your position will be accessed.

This will then allow you to see your position in relation to the cycle route and to some services.
What type of bike do you recommend for The Vélomaritime® cycle route?
We recommend a hybrid bike.
Is there a direction in which you should ride?
Seasoned cyclists advise people to ride the cycle route from West to East. This increases your chances of having the wind behind you!
Can you rent a bike in one town and leave it back in another town (one-way rental)?
Yes, some bike rental services will allow you to do this, on certain conditions and in specific areas.
Is there a luggage transfer service on The Vélomaritime

®

?
Les Trouvillaises offers to transfer your luggage at each stage of your journey (along the whole route). Other companies also offer this service on certain parts of the route.
Luggage transfers