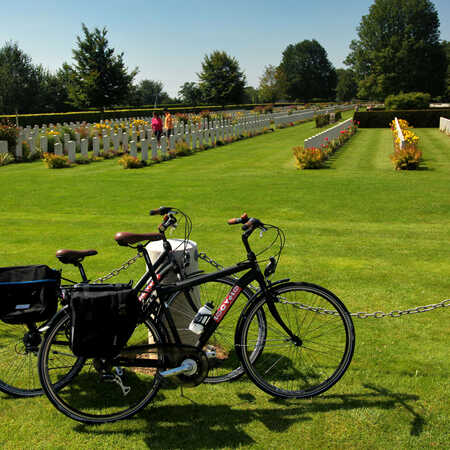 ©G. Wait - Calvados Attractivité
south
Renting a bike
Renting a bike is a great solution for:
discovering cycle touring
ensuring your bike is in good condition and well equipped
groups needing additional equipment
those wanting an alternative to transporting their bike on the train
OPTIONS: One-way bike rental | Renting along the cycle route | E-stations in the Manche and Seine-Maritime departments | Discover electric bikes
Bespoke one-way rentals

Ideal for cycle touring, one-way rental lets you hire a bike from your starting point (on-site or via a delivery service) and leave it at your end destination. Several bike renters offer this type of service along the Vélomaritime route. Don't forget to book well in advance. Most of the renters offer traditional and electric bike rentals, along with all the equipment (saddle bags, helmets, etc.). Make sure you tell them exactly what you need when you book.

Covering the entire route or most of it
In Brittany and Normandy
In Normandy and Hauts-de-France
Vél'Omaha offers you the possibility of cycling the 50 km separating Port-en-Bessin from Isigny-sur-Mer in one or several goes by hiring a bike at one of its partner rental points and dropping it off at another.
Coffe Bike Normandie

delivers bikes on request in Seine-Maritime up to Baie de Somme

Opale Vélo Services offers a bike delivery and pick-up service between the Bay of the Somme and Dunkirk (and even up to Ostende if you continue on the EuroVelo 4 route to Belgium).