Nature and Heritage, Patrimoine
Saint-Hilaire-du-Harcouët
10,97 km cycling route from Saint-Hilaire-du-Harcouët to Mortain-Bocage
Leading you along slopes, this Vélomaritime stage guides you gently towards Mortain, at the green heart of Normandy's extensive area of typical hedge-divided fields, known as the bocage, and located where our route meets the Véloscénie cycle route. The greenway on this stage takes you close to the enchanting Cance waterfall. Do go and see it in its wild, steep setting, clearly showing how this part of Normandy is part of the wider Armorican granite peninsula.
Surface of the stage
Lisse: 9,72 km
Rugueux: 1,24 km
The route
Greenway up to Mortain. Take care crossing roads.
Accommodation on the stage
Did you like this?
You may also be interested in this...
They did it!
favorite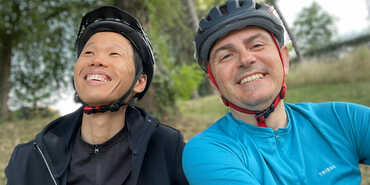 Leo & Andy les aventuriers du dimanche en piste pour La Vélomaritime. Deauville > Le Mont-Saint-Michel : 360 km en 6 jours