Gastronomie, Nature and Heritage, Patrimoine, Beaches, Highlight
22,06 km cycling route from Port-en-Bessin-Huppain to Arromanches-les-Bains
At the start of this stage stands Port-en-Bessin, its port always lively when the fishing boats return, particularly during the scallop season. Head on to discover pretty villages, their lanes lined with long stone walls, and manor-style farms dotted along narrow country lanes. You then reach Arromanches and its famed artificial Mulberry Harbour, towed over from England following the D-Day landings of 6 June 1944 as part of the greater Operation Overlord to win back Normandy.
Elevation of the stage
Waytypes of the stage
Cycle path: 4,77 km
By road: 17,28 km
Surface of the stage
Lisse: 16,18 km
Accidenté: 7,31 km
The route
Beyond Port-en-Bessin, at time of writing, you need to follow a provisional diversion heading slightly inland. This stretch allows you to reach Etréham and Longues-sur-Mer. You join the coast at the level of Longues Batteries, from where a greenway leads you as far as Arromanches."
SNCF
Nearby station Bayeux station (10 km from Port-en-Bessin-Huppain), served by Normandy Intercity trains Paris-Saint-Lazare <> Cherbourg or Saint-Lô, via Caen, and Normandy TER trains.
Accommodation on the stage
Did you like this?
You may also be interested in this...
They did it!
favorite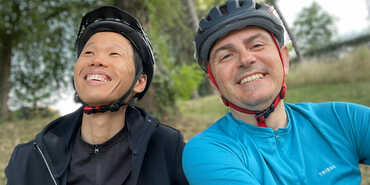 Leo & Andy les aventuriers du dimanche en piste pour La Vélomaritime. Deauville > Le Mont-Saint-Michel : 360 km en 6 jours