Gastronomie, Panorama, Patrimoine, Beaches, Highlight
32,68 km cycling route from Grandcamp-Maisy to Port-en-Bessin-Huppain
Cycling along this section is a humbling reminder of the landings of 6 June 1944. Shortly after Grandcamp-Maisy, the cycle route joins the Liberté Greenway, which runs along the clifftops of the Bessin coastline. It takes you to Pointe du Hoc, a landmark site of the Normandy landings, and on to equally symbolic Omaha Beach, where the US troops disembarked under enemy fire. You then cycle on to Port-en-Bessin, where a delicious seafood platter awaits you on the waterfront.
Elevation of the stage
Waytypes of the stage
Cycle path: 18,84 km
By road: 14,07 km
Surface of the stage
Lisse: 24,19 km
Rugueux: 3,48 km
Accidenté: 5,24 km
The route
This section boasts a brand-new greenway hugging the beautiful Bessin coastline. It takes you to breath-taking Omaha Beach and then winds inland around the American cemetery along paths and country roads.
At Colleville-sur-Mer, you join a stretch that is well signposted, alternating between parish roads and greenways up to Port-en-Bessin. There's a very steep descent (>18%) as you come down to the port. Stop to admire the magnificent views!
SNCF
Nearby station Bayeux station (10 km from Port-en-Bessin-Huppain), served by Normandy Intercity trains Paris-Saint-Lazare <> Cherbourg or Saint-Lô, via Caen, and Normandy TER trains.
Accommodation on the stage
Did you like this?
You may also be interested in this...
They did it!
favorite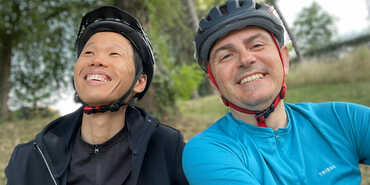 Leo & Andy les aventuriers du dimanche en piste pour La Vélomaritime. Deauville > Le Mont-Saint-Michel : 360 km en 6 jours