Nature and Heritage, Patrimoine, Beaches
You leave the historic town of Lannion via its Brélévenez Quarter, looking down on the centre. You then cycle on through an iconic section of the Vélomaritime route – the Côte de Granit Rose, famed for its highly colourful rocks sculpted into extraordinary shapes by the elements, plus with the national nature reserve of Les Sept-Îles out to sea. Do take the link to extraordinary Ploumanac'h, making the most of stops beside remarkable sandy creeks along the way.
Waytypes of the stage
By road: 33,48 km
Cycle path: 4,63 km
Surface of the stage
Lisse: 33,48 km
Accidenté: 4,63 km
The route
Mainly along minor roads, with some stretches on rural greenways with sandy surfaces that are easy to ride along. 

Take care: 
after Lannion, on the Servel road, where traffic can be busy and fast 
crossing the RD21 road north of Trébeurden
on the steep slope at the end of the stage, to be tackled with caution, in part as there's a Stop sign during the descent, before you arrive at the RD6 road
Link: from Perros-Guirec, a signposted link scarcely 3km in length to Ploumanac'h, a resort that epitomizes the extraordinary Côte de Granit Rose
SNCF
Nearby station Lannion station (TGV, TER): Lannion/Morlaix/Brest line Lannion/Guingamp/St-Brieuc/Rennes/Paris
They did it!
favorite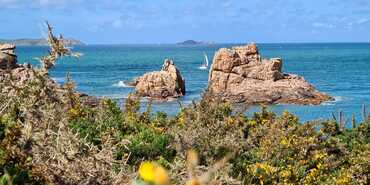 Long week-end à vélo de Lannion jusqu'à Paimpol avec une escale sur l'île de Bréhat