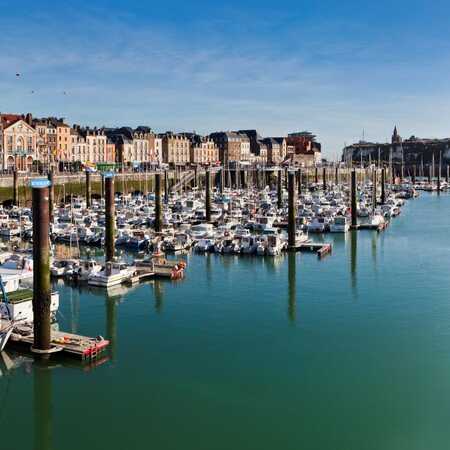 Le port de plaisance de Dieppe © SMA - H. Zangl
south
From Tréport to Fécamp
Explore the small coastal valleys of the Alabaster Coast and enjoy visiting the small seaside resorts and fishing villages.
Practical information:
Length: 5 days and 4 nights
Departure an arrival: Le Tréport
Distance :  ~ 192 km (~ 119 miles)
Day 1: Le Tréport to Dieppe - 31 km (~ 19 miles)
Things to see on the way: Le Tréport and its funicular, the offshore wind farm and the highest white chalk cliff in Europe at Criel sur Mer.

Day 2: Dieppe to Saint Valery en Caux - 45 km (~ 28 miles)
Things to see on the way: Varengeville sur Mer's symmetry and church, Saint Marguerite's beach huts, and Veules les Roses, one of the most beautiful villages in France

Day 3: Saint Valery en Caux to Fécamp - 41 km (~ 25 miles)
Things to see on the way: Saint Pierre en Port, Les Petites Dalles, Les Grandes Dalles and Fécamp, Town of Art and History with the Benedictine Palace, the Fisheries Museum, as well as the Signal Station
Day 4 and 5: cycle back by the Véloroute du Lin (traditional flax trail) - 73 km (45 miles)
To go back to where you started and to avoid taking the same route, vary the landscape on the Véloroute du Lin. You will love this easy-going alternative with long sections of greenway.

In Fécamp, take the Véloroute du Lin to Pourville-sur-Mer (just before Dieppe) before returning to The Vélomaritime®.

See all you need to know about the Véloroute du Lin
favorite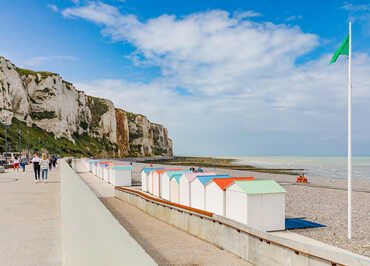 favorite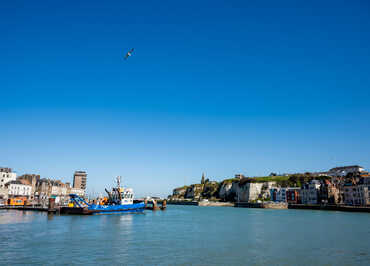 favorite