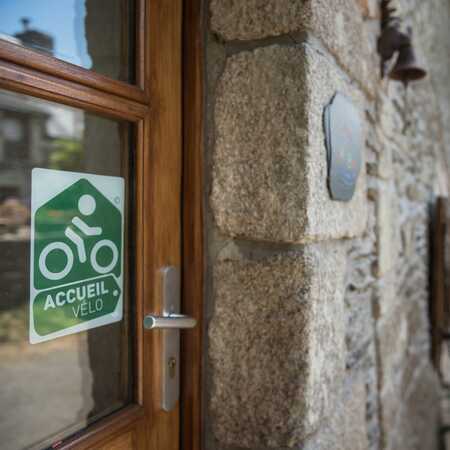 La marque Accueil Vélo en Bretagne © BERTHIER Emmanuel - CRT Bretagne
south
Where to Sleep
At Accueil Vélo (bike-friendly) accommodation
Hotels, campsites, guest rooms and other types of group accommodation are available all year long. Some of them provide services especially for cycling tourists.

On each cycle route trail, you have access to the following types of accommodation: motorhome sites, campsite, guest rooms, self-catering holiday homes, furnished rentals, group accommodations, hotels, holiday apartments, and holiday villages which are located within 5 km. This accommodation comes from our regional databases.
Our advice:
Remember to book your accommodation ahead, particularly during peak tourist seasons (July-August and long weekends)

In towns, check with the establishment that you have somewhere to park your bike. This service is guaranteed at Accueil Vélo (bike-friendly) accommodation.

Confirm the day before or the morning of your arrival by email or telephone.

If you are riding from place to place, we strongly recommend that you buy a guide with all the addresses.

Why not also consider an "all-inclusive" package that will allow you to travel without the worry of having to organise luggage transfers from one trail to another?
* The Accueil Vélo (bike-friendly) brand was set up by France Vélo Tourisme, through local tourist organisations. Click here if you work in the cycling business.