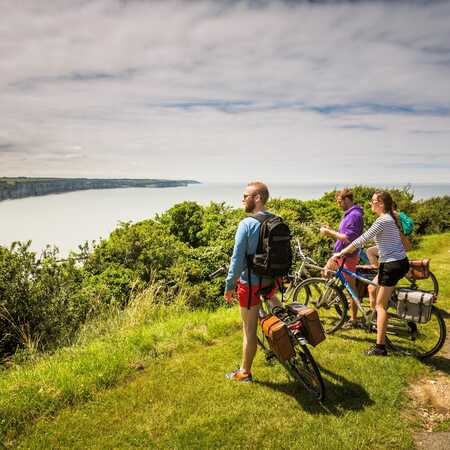 La véloroute du littoral vers Fécamp © Seine-Maritime Attractivité - V. Rustuel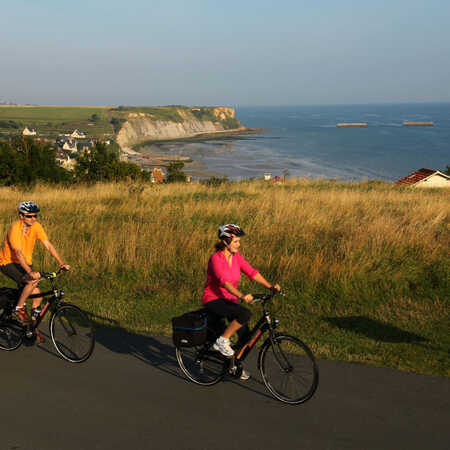 Rando vélo à entre Arromanches et Port-en-Bessin © Grégory Wait - Calvados Attractivité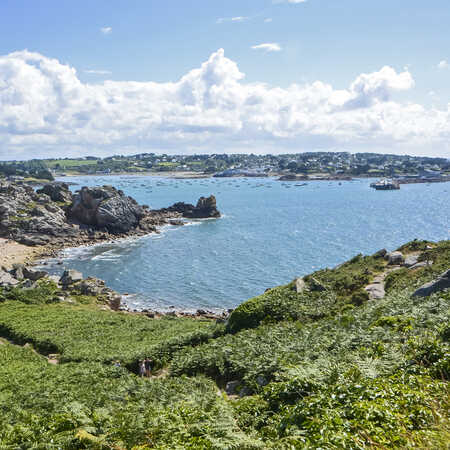 Pointe de Primel - Plougasnou © CRT Bretagne - J. Piriou
south
Must-see Viewpoints
Our top 8 panoramic views on La Vélomaritime®
The Primel headland in Plougasnou
Leave your bikes on the wayside, just after the seaside campsite and enjoy an incredible view of the Bay of Morlaix and the Island of Batz, in fine weather.
Where is it? Just 1 km (~ ½ mile) from the cycle route on the Plougasnou <> Morlaix trail / 48.715142, -3.816120
The Tourony Beach in Trégastel
At the back of a small inlet located between Ploumanac'h and Saint-Anne Bay, the little Plage de Tourony is a particularly scenic spot. The beach is dotted with granite rocks around which the sea creates blue lagoons.
Where is it? On the Perros-Guirec <> Lannion trail / 48.828467, -3.495552
 
Pointe de la Roche Torin to Courtils
From here, you will enjoy an unusual view of the Mont-Saint-Michel and Tombelaine between the grasslands and salt meadows.
Where is it? Just 500 metres (547 yds) from the cycle route, on the Ducey > Mont-Saint-Michel trail / 48.643414, -1.425388
Arromanches, overlooking one of the D-Day landing beaches
There is a fantastic view of Port Winston and the extensive Gold Beach from around the Arromanches 360 circular cinema.
Where is it? Coming into Arromanches from the east, on the Ouistreham > Arromanches-les-Bains trail / 49.339054, -0.617531
The Séneville signal station in Fécamp
Before beginning your ride down to Fécamp when coming from Saint-Valery-en-Caux, enjoy the breath-taking view from Cap Fagnet. At 105 metres (344 ft), this is the highest point on the Alabaster Coast. You can see as far as Etretat.
Where is it? On the Saint-Valery-en-Caux > Fécamp trail / 49.766837, 0.370964
The white road between Le Hourdel and Cayeux-sur-Mer
The old road is now for bikes and pedestrians only and it has a belvedere with a stunning view of the Bay of the Somme. If you look really hard, you might even see some seals!
Where is it? On the Le Crotoy <> Cayeux-sur-Mer trail (available online shortly) / 50.213467, 1.543955