Nature and Heritage, Patrimoine, Beaches, Highlight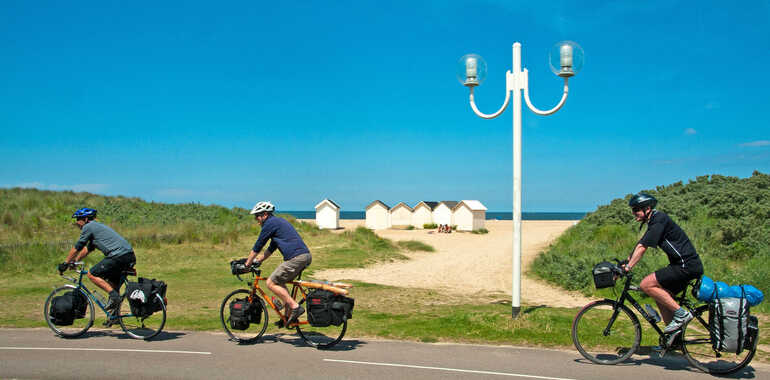 Cycling beside the famous beaches along this stage, you can't help but think of all the Allied soldiers who landed here in 1944 – British and French at Sword Beach, Canadian at Juno Beach. Also admire the fine villas along this stretch of Normandy's Côte de Nacre, recalling the earliest days of seaside holidays. Stop at Courseulles-sur-Mer, a lively fishing port whose quays host a daily fish market. Lastly, make for Arromanches via quiet country roads, taking in wide views of the sea and of the oyster beds around here.
The route
From Ouistreham, a cycle path follows the coast to Luc-sur-Mer. Then your way alternates between sections shared with motorized traffic in the resorts and stretches of cycle paths, up to Courseulles-sur-Mer. A road shared with motorized traffic then takes you inland to Asnelles before you join a coastal cycle path leading to Arromanches.
SNCF train stations:
Caen Station (16km from Ouistreham via a greenway)
Bayeux Station (on the main Paris-Cherbourg line)