Nature and Heritage, Panorama, Patrimoine, Beaches, Highlight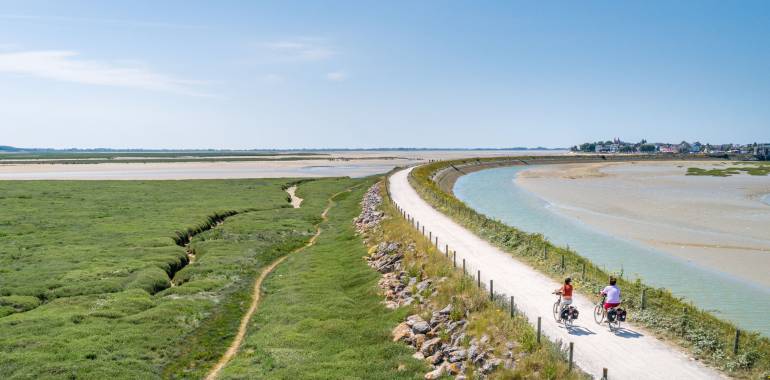 This stage of La Vélomaritime starts at Le Crotoy train station, then leads you to the port, with fabulous views of the Bay of the Somme. At Noyelles-sur-Mer, stop at the Chemin de Fer de la Baie de Somme train station to embark on an historic rail trip; not only does this give you a chance for a rest, it also allows you to cut out the stretch of track where you have otherwise to cycle beside the road up to Saint-Valery-sur-Somme. You then arrive at the heart of this port, with its fishermen's homes below the medieval town. Continuing towards Le Hourdel, stop at the Maison de la Baie de Somme, covering the riches of the estuary. Then meander along La Route Blanche, set between the sea, coastal pebble banks and dunes. You may be lucky enough to spot seals before arriving at Cayeux-sur-Mer, a quintessential seaside resort.
The route
From Le Crotoy to Noyelles-sur-Mer you follow a cycle track crossing a hunting domain, taking you up to the entrance to Saint-Valery-sur-Somme. For the safest option for families, we advise you to tackle the last portion of this stretch aboard the Chemin de Fer de la Baie de Somme's historic train. Arriving at St Valery-sur-Somme, get off your bike to cross the bridge over the tourist train line.
To get from St Valery to Le Hourdel, cycle along for 1.5km beside the canal to reach a cycle track taking you on to La Route Blanche. This greenway leads to La Mollière round-about, where you join a minor country road taking you to Cayeux-sur-Mer.
Train stations (SNCF)
Don't miss
Explore: 
Nature outings:
Relaxation / activities: