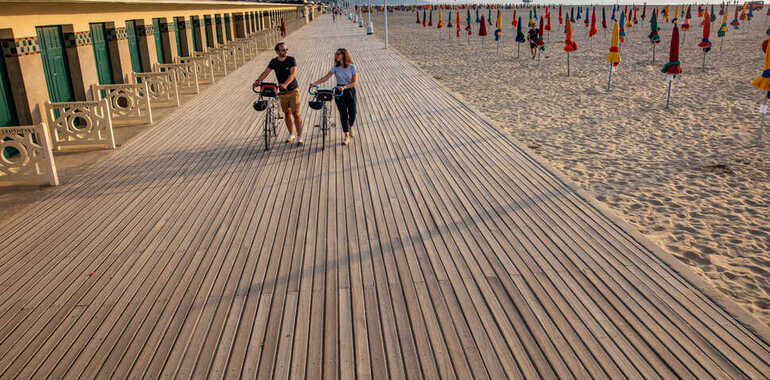 You will leave the chic Deauville to fully appreciate all the charms of the seaside villages that border the well named "Côte Fleurie". A few pedal strokes later and the Mont Canisy will offers itself to you: a 360° panorama on the sea and the Normandy countryside. Next follow the timeless beach cabins, Villers-sur-Mer and its cliffs of the Black Cows, Houlgate and its Belle Époque villas and finally Cabourg, ideal for a romantic break... or a gastronomic one.
The route
Starting from Deauville, you will cross the hippodrome by taking a coated greenway along the Touques' dead arm. You will cross St-Arnoult and join Tourgéville with a succession of greenway and bicycle path. This 7 km section is very accessible and marked out.
The continuation is for the moment in the form of a provisional route without signposting on 20 km between Tourgéville and Houlgate. It consists of shared lanes and part of a greenway in the Villers-Blonville marshes. The difference in altitude is quite significant.
In Houlgate, you will find a signposted and developed route to Cabourg for 4.5 km. It follows a succession of bicycle lanes, shared lanes, a walk on the beach and a greenway along the Dives estuary.
Train stations nearby: