Nature and Heritage, Patrimoine, Beaches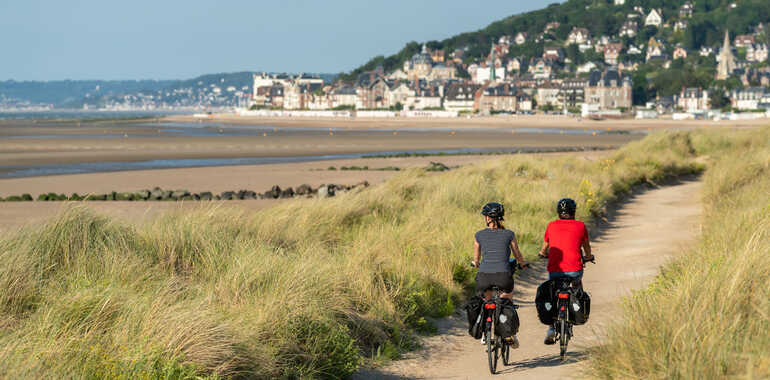 After Cabourg, an iconic resort on Normandy's Côte Fleurie closely linked to the great writer Marcel Proust, the EuroVelo 4 route leads you into the Bay of the Orne. A haven for birds and for people who love unspoilt nature, learn about its hidden riches at the Maison de la Nature de Sallenelles. Your cycle route continues beside the Orne River, which you cross via the famed Pegasus Bridge, crucially secured by the Allies at the very start of D-Day in June 1944. You then arrive in the port of Ouistreham, which doubles as a seaside resort, with fine sandy beach and typical beach huts.
The route
Starting out from Cabourg, you follow the seafront first along a cycle lane, then along a section of road shared with motorized traffic, followed by a cycle path up to Merville-Franceville. Leaving that town, you join a greenway that takes you via dunes on to Sallenelles Bay. Having crossed the bridge over the Orne River, you fork off to Ouistreham via a greenway before joining a cycle lane at the port.
SNCF train stations:
Caen Station (16km from Ouistreham via a greenway)