Nature and Heritage, Patrimoine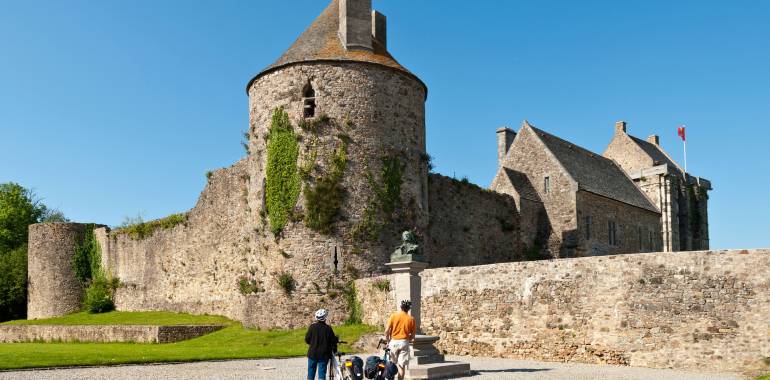 Dating back to the Vikings, Bricquebec's history is matched by its monuments: the Abbey Notre-Dame-de-Grâce and the ruined castle are well worth visiting before setting off to St Sauveur le Vicomte – which itself has its own 10th century Abbey, and a museum dedicated to locally-born writer Jules Barbey d'Aurevilly.
Itinerary
Make your way through the village of Briquebec – it can be crossed on a safe and pleasant greenway - then descend gently on the former 'little train' track towards St. Sauveur.  Numerous picnic areas on the route.  Take extra care north of St. Sauveur when crossing the RD 900 (poor visibility).
Tourism Information
Saint-Sauveur-le-Vicomte
Le Vieux Château
50390  Saint-Sauveur-le-Vicomte
Tel. 02 33 21 50 44
Railway lines
Vire Train station : TER to Granville, Argentan.
Not to be missed
Bricquebec is a town of Art and History overflowing with museums and castles to discover.

Visit: The Old Castle at Bricquebec, the Abbey de la Trappe at Bricquebec and the medieval moats of Bricquebec, St Sauveur le Vicomte and La Hayes du Puits.