Gastronomie, Nature and Heritage, Patrimoine, Beaches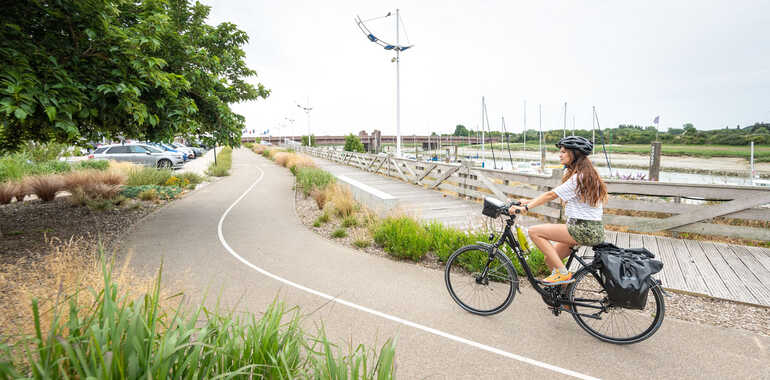 This stage of La Vélomaritime - EuroVelo 4 begins with a short climb to Condette, where the Château d'Hardelot makes an appealing stop, with its bicycle maintenance station (if needed), a place for a bite, and the castle to visit. From here, a link allows you to join the cycle paths around the resort of Hardelot, tucked between the sea and a forest. Next, cycle beside the Nature Reserve of Le Mont Saint-Frieux and the Commonwealth War Cemetery at Etaples. This port looking onto the Bay of the Canche offers tempting culinary delights before you continue on to Le Touquet.
The route
Between Boulogne and Hardelot, works were programmed between Outreau and Le Portel in 2019. Between Outreau and Condette, before arriving at Ecault Forest, at time of writing, the route is not laid out for cyclists.
Reaching Hardelot, a link can steer you to the centre of the resort. After Hardelot, cycle tracks run parallel to the D940 road, up to Etaples-sur-Mer.
To reach Le Touquet, cross the Pont Rose bridge at Etaples, using the cycle lane put in place.
Train stations nearby:
Boulogne sur Mer 
Etaples-Le Touquet
Don't miss
Explore: 
The Château d'Hardelot, its extraordinary architecture and Anglo-French links, celebrating the cross-Channel Entente Cordiale
Maréis: a major visitor centre at Etaples-sur-Mer, dedicated to fishing at sea
The resort of Hardelot
Culinary matters: 
At the port of Etaples, you can admire the seafood stalls every day of the week
Witness the fish auction at Etaples
At Hardelot, from April to October, the Dimanches Gourmands prove exceptional Sunday foodie markets.
Relaxation / activities: 
They did it!
favorite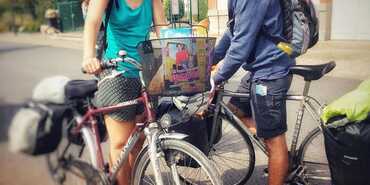 450 kilomètres en duo à la découverte du littoral nord